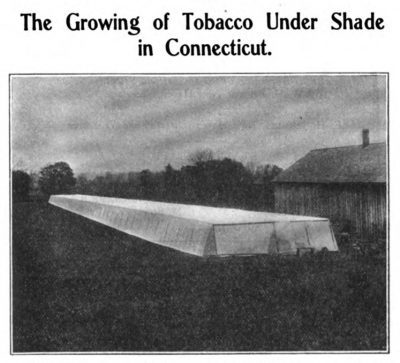 Project Description
The Connecticut River Valley, spanning across several small New England states, possesses a long history of interconnections with the global economy. From its indigenous inhabitants, labor diasporas and settlement of European colonists to the fabled whaling industry and maritime commercial links to slavery and the slave trade, this region is embedded in a global network since the sixteenth century. Despite these world-wide connections, New England in general and the Connecticut Valley in particular, is often imagined and characterized as a white parochial and culturally static place. Connecticut is known as, "the land of steady habits." These images of the region elide the histories of migration which brought people from all over the world to work and make this place home. Tobacco cultivation is the setting for one of the most egregious acts of erasure. Plagued by labor bottlenecks for netting, weeding, and harvesting since production began in the 17th century, tobacco has always been a labor-intensive industry capitalizing on the ebbs and flow of US immigration and labor policies. Its cultivation reveals key intersections of US imperial, labor, and immigration history which are addressed in an uneven fashion by the scholarly and popular literature. Through the lens of the Connecticut River Valley and the boutique shade tobacco industry that it spawned, we have launched SHADE, an interdisciplinary collective of scholars focused on exploring new ways to trace the local, regional, national, and global reverberations of the valley's tobacco plantations.
The agricultural segment of the tobacco industry has played a pivotal, and often foundational role, in generating black and Latino labor diasporas, shaping global commodity markets, maintaining a hegemonic white settler culture, and exploiting the urban underclass. SHADE, adopts a collaborative approach to investigating the ways that U.S. imperialism, colonization, corporate industry, and white settler normativity evolved and matured in the Connecticut River Valley. Drawing on a cohort of faculty with expertise in history, American, Caribbean, Africana, Latinx, Latin American and Asian and Asian American Studies, this project offers an interdisciplinary approach to exploring the economic, and social configurations of tobacco plantation culture. The project aims to expose and interrogate the silences around tobacco cultivation in the Connecticut River Valley, especially in relation to migration and labor. While migration and labor histories associated with the valley's tobacco industry remain politically invisible, laborers continue to shape the rural and urban spaces of the region in the course of giving their life meaning. Tobacco laborers attached their own meaning of place and space to their memories and their imaginations of the Connecticut River Valley.
Within a few seasons, black and brown laborers could experience life as migrant, seasonal, day-haul, foreign, or domestic labor. West Indians trafficked in positive labor stereotypes and their English language proficiency to secure pride of place in bilateral treaties with the US government. Puerto Ricans leveraged their status as citizens to relocate to the US, then used their status to decamp to Hartford and transition from migrant to local day laborers. Day-haul labor provided Hartford's Vietnamese residents with a toehold in the local economy as they settled in a new home. Some laborers could vote with their feet, others were immobilized based on immigration status. Some were deportable, others were vulnerable, almost all were invisible. For some, their labor experiences drew on tobacco cultivation in Georgia, Virginia, or Puerto Rico, while for others it was a novel experience. For many, it was a bridge to nascent diasporas, a place where cultural others jostled in the fields and barns. Sometimes you found a wife, a lover, a friend, or a new social network. Alongside this mélange of stories are flattened narratives of how many local teenagers took a turn at summer or seasonal labor in the tobacco fields—commonplace local narratives that hide the systemic reliance on deportable, seasonal, and migrant labor to maximize price ceilings for a boutique crop used for cigar wrappers.
The collective explores the intersections of labor, identity, mobility, and migration. The collective also leverages their disciplinary expertise to explore traditional and new media platforms for developing narratives around the global circuits of labor that linked tobacco cultivation to broader social and economic networks. SHADE will hold an April 2021 scholarly colloquium on our collaborative work as well as a public reckoning of the past through poetry and public and intergenerational engagement. The scholarly forum will take place via a digital platform and provides an opportunity to forge inter-collegiate bonds across disciplinary specializations and most importantly, generate a well-rounded understanding of the historical and political development of racialized communities in the shadow of tobacco cultivation.
The Shade Research Collective is generously funded by the New England Humanities Consortium and UConn's Humanities Institute.